Effective communication in the workplace can improve collaboration, engagement and the employee experience. Here are four strategies to help.
Effective communication in the workplace builds strong team relationships, empowers healthy manager and employee collaborations and helps the organization advance toward its goals. Yet creating the conditions for effective communication — both at the individual level or between departments — can be challenging. Internal barriers, bad work habits and a lack of clear expectations can all contribute to communications issues.
The good news is that CHROs can take the lead in developing a communications plan that positively impacts every level of the business. Here are four strategies you can implement today.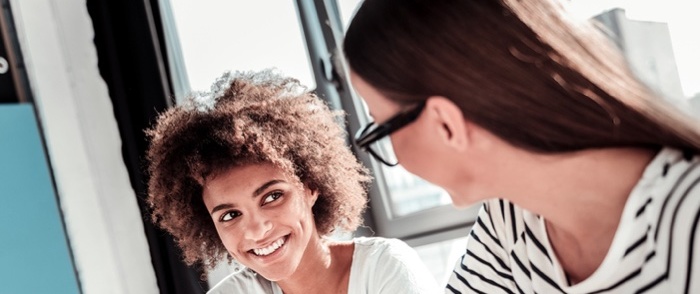 1. Invest in Managers' Communication Skills
When your organization's management layer has strong communication skills, it builds trust and enhances performance. Breakdowns can cost you top talent. According to a study by Robert Half Management Resources, the one area workers feel managers could improve is communication. In fact, the gap may be larger than many organizations realize: Inc reports that 91 percent of employees in a recent study felt their leaders completely lacked communications skills.
HR leaders can set their organizations on a better trajectory by prioritizing communications. Start with a plan to invest in training your current managers on strong communications. Seminars, coaching and structured mentorship programs can all be helpful. Incorporate communications skills into reviews and evaluations to identify leaders that may be struggling, so you can offer additional support and training. Finally, when hiring or promoting employees for management roles, look for candidates who bring strong soft skills and previous communications experience to the table.
2. Focus on Building Interpersonal and Interdepartmental Relationships
Positive, healthy relationships also foster effective communication in the workplace. When people know each other and have established trust, it's far easier to have difficult conversations or ask for help. From an HR perspective, here are three strategies organizations can use to help their employees build better relationships.
Break down interdepartmental barriers. Eliminating silos between departments is essential for strong communication. Knowledge sharing and collaboration opportunities can all be helpful.
Create time for bonding with team-focused activities, and create socialization opportunities where employees can connect outside of their primary work roles.
Explore whether strategically deploying internal social media tools could make it easier for employees at different sites to connect, communicate and get to know each other.
3. Simplify Communications Channels
Conventional wisdom suggests that providing employees with a range of communications channels makes it easier for them to stay connected. Approach this with care — the need to monitor emails, text messages, instant messages, slack channels and notifications from a range of systems may be adding significant stress to your employee base.
As a CHRO, you can evaluate what types of communications issues your organization is having, and then take a deep dive into the technology and tools you're currently using. In some cases, improving communications can be achieved by investing in new technologies. In others, if employees are overwhelmed or there are too many competing variables to streamline communications, finding ways to simplify them can help.
Taking the right action might involve scaling back on communications platforms, developing policies on how to prioritize different channels or working with managers to create a communications strategy that meets their teams' needs without overwhelming staff.
4. Address Underlying Structures that Impact Communications
In some cases, organizations that have challenges arise and feel like they are struggling with communications actually have issues with their underlying structure. Consider this example from the Harvard Business Review: An organization onboarded employees with vague job descriptions. Early on, it was easy to compensate for these vague job descriptions because new hires had access to senior managers and visibility into the business's goals. As the firm grew, it became more difficult. People began to complain that there were communication breakdowns. However, a deep dive revealed that the problem wasn't communications — it was a lack of clear definition of job descriptions.
HR leaders can help by investigating what's really happening with complaints surrounding communication. Have conversations with employees, conduct an engagement survey and observe workflows. In some cases, true communication issues exist. In others, complaints about communication challenges may be masking other issues — such as overly complex processes, a lack of transparency throughout the organization or other management challenges.
Promoting effective communication in the workplace pays dividends across the organization. From better cross-team collaboration to stronger manager and employee relationships, taking a few key steps to improve communications improves productivity, collaboration and employee engagement. HR leaders can strategically drive this important area to have a significant positive impact on their organization.